Description
Bio-diesel is the future renewable energy source in the world, we can supply biodiesel plants from 1 klpd to 100 klpd from a wide variety of oils, fatty acids.
All edible oils & fats (vegetable & animal) can be esterified. Pretreatment and esterification is required if the following specification is not met:
FFA-Content < 0.1%
Phosphatide Content as Phosphorus < 10 ppm
Sulphur < 5 ppm
Water Content < 0.10%
Impurities < 0.10%
Temperature 122o F (50o C)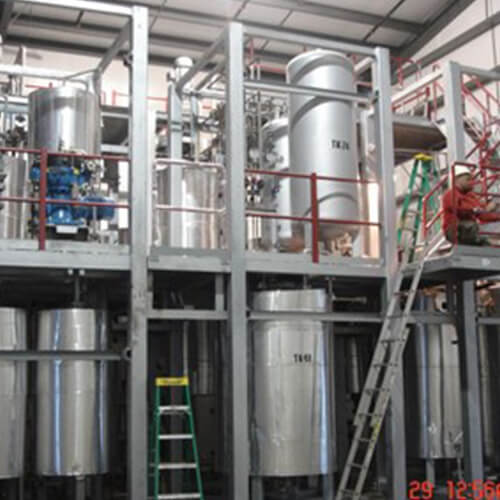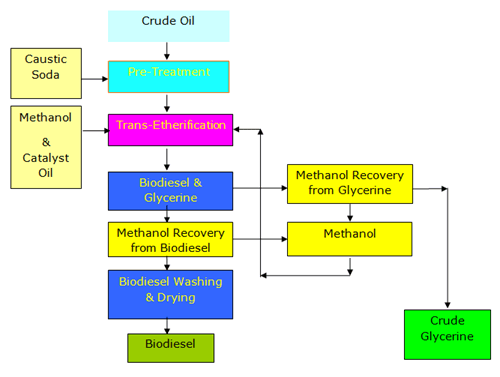 Transesterification of oil is based on the chemical reaction of triglycerides with methanol to form methyl ester and glycerin in the presence of an alkaline catalyst. This reaction takes place in the mixing section while the subsequent settling section allows for separation of methyl esters as the light phase from glycerin water as a heavy phase. A subsequent counter current washing step for methyl ester removes by-product methyl ester and gives biodiesel. Excess methanol present in glycerin is removed in a rectification column. Industrial grade glycerin is further purified by distillation process into pharma grade glycerin.
How We Work
01.
The Basic Idea
Discover & strategy
02.
Exploration
Research & plans
03.
Begin To Develop
Implement Plan
Brissun is a leading manufacturer, supplier & exporter of Bio Diesel Plant. Brissun Manufacture Cost Effective Bio Diesel Plant, and ensures low cost of production , and output of high quality. We also provides Turnkey Project for the complete Bio Diesel Plant. Bio Diesel Plant Plants, Bio Diesel Plant, Bio Diesel Plant process, Bio Diesel Plant machinery manufacturers, Bio Diesel Plant Plants manufacturers, Bio Diesel Plant project, Bio Diesel Plant industry, Bio Diesel Plant processing, Bio Diesel Plant processing machine, Bio Diesel Plant production process.